The REXUS/BEXUS programme is realised under a bilateral Agency Agreement between the German Aerospace Center (DLR) and the Swedish National Space Agency (SNSA). The Swedish share of the payload has been made available to students from other European countries through the collaboration with the European Space Agency (ESA).
Experts from DLR, SSC, ZARM and ESA provide technical support to the student teams throughout the project. EuroLaunch, the cooperation between the Esrange Space Center of SSC and the Mobile Rocket Base (MORABA) of DLR, is responsible for the campaign management and operations of the launch vehicles.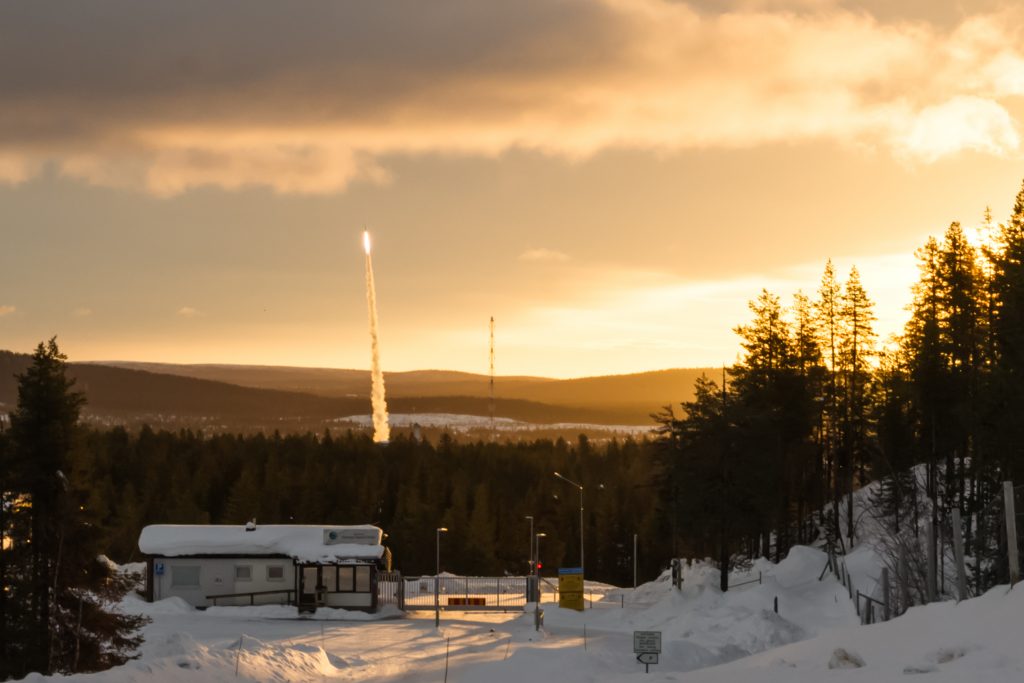 A REXUS launch during the winter. Photo Credit: Przemysław Radzik
https://www.facebook.com/pradzik
Each year two REXUS rockets and two BEXUS balloons are launched from Kiruna, Sweden at Esrange Space Center. The program allows students from Universities and higher education colleges across Europe to carry out a total of about 20 student designed and built scientific and technological experiments.
TUPEX-6 has been selected for the REXUS 26 mission, with a launch target of March 2019. The REXUS rocket is an unguided, spin stabilized, single stage rocket capable of achieving 90 km altitude for 40 kg of experimental payloads. REXUS/BEXUS is the ideal program for TUPEX-6 because launching into the upper atmosphere using a REXUS rocket provides with up to two minutes of microgravity.
The REXUS/BEXUS program is a unique opportunity for students to gain hands-on experience progressing a mission through all phases of a space project. Participants get to qualify their concepts for rocket flight, before integrating the experiment into REXUS's experiment module, and ultimately the rocket. Finally, student's experience a launch campaign and determine design and performance success after landing. Throughout the program, reviews are conducted with the REXUS/BEXUS program managers. The program is a great situation to educate masters level students in a practical manner which represents the ESA and ECSS frameworks as well as an avenue to trial a new system in attitude control technology.
During the program, teams are invited to ESA, SNSA and DLR sites to conduct reviews. Lectures specifically designed for the program are also provided during these visits. Furthermore, teams are invited to the lanuch campaign at the Esrange Space Center, to prepare and conduct their experiment.